CB presents the Full Story of a Basketball Genius who is best known by the Nickname "Akron Hammer". Our LeBron James Childhood Story plus Untold Biography Facts brings you a full account of notable events from his childhood time to date. Analysis involves his life story before fame, family life and many OFF Court facts (little known) about him.
Yes, everyone knows about his dominance in basketball but few consider our LeBron James Bio, his classic tale of rags to riches. Now without further ado, let's begin.
LeBron James Childhood Story Plus Untold Biography 
Facts:

Early Life
LeBron Raymone James was born on the 30th day of December 1984 in Akron, Ohio, United States. He was born to his mother, Gloria Marie James (aged 16 at the time) and his father, Anthony McClelland, who was reportedly Gloria's lover with numerous criminal record.
When Anthony realized he had gotten LeBron's mother pregnant, he deserted her like one who flees from a crime scene, a development which left Gloria to brace the difficult challenge of becoming a single mother.
For Gloria, raising LeBron James and catering for her own needs in the Seedier neighbourhoods of Akron was like an unprepared ascent to the summit of Mount Everest. Although she was brave to give it a shot by a periodic change of apartments to what suits her fast dwindling finances. She was later forced to tread the narrow path of temporal separation for lasting interest.
Although she committed young Lebron young LeBron to the foster care of a local youth football coach, Frank Walker who not only bought him his first Basketball but also gave him his first training.
LeBron's mother, Gloria Marie James never ceased to support and love her child all through while he was in foster care.
LeBron James Childhood Story Plus Untold Biography 
Facts:

Introduction to Basketball
It was in the hands of Frank Walker that young LeBron (aged 9) had an early encounter with destiny. Thanks to him, LeBron James got addicted to the sports as he grew.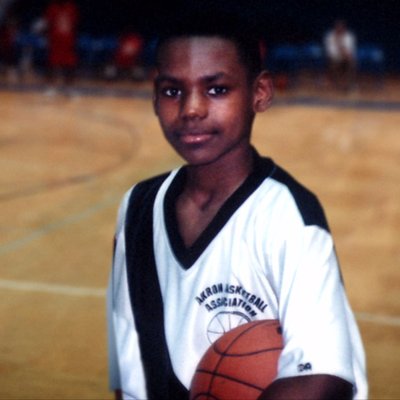 Consequently, he initiated a big step to building his basketball career by playing for the Northeast Ohio Shooting Stars as a youth. When he was in fourth grade, he missed 82 out of a total of 160 school days because of his addiction to Basketball. He was in 8th grade when he hit his first dunk.
Back then as a teenager, he was told by his high school coach to do 10 push-ups each time he swore in a match. He later formed a formidable pack with his three friends Sian Cotton, Dru Joyce III, and Willie McGee who altogether led their youth team to victory after victory at local and national basketball competitions.
At this time, he had become a standout player in high school which saw him feature on the Cover of Sports Illustrated in his senior year.
Ever since his career has gone nowhere but up and it took no time before he became a full-grown man.
The rest, as they say, is now history.
LeBron James Childhood Story Plus Untold Biography 
Facts: 

Relationship Life
Between 1999 and 2012, Lebron James had what could be best described as short hook-ups with a number of interesting notable female personalities including Hencha Voigt (Before 2000), Savannah Brinson (2000), Adrienne Houghton (2003-2004), Meagan Good (2004), Amber Rose (2010) and Carmen Ortega (2012).
Regardless of the short stints, Lebron James was interestingly able to sustain a long-term relationship with his High school sweetheart, Savannah Brinson whom he later got married to in 2013 after LeBron proposed on New Year's Eve. The couple did not make their wedding photo public.
Most people would at this point admit that Savannah has paid her dues and deserves the ring. For a couple who met in 2000 and dated for 11 awesome years, it's safe to remark that what Lebron James shares with Savannah Brinson is nothing short of true love.
It all started from high school when LeBron James was a 17-year-old Junior and Savannah was a 16-year-old high school sophomore. Despite their schools were 2 miles apart, the couple nonetheless found reasons to love each other. While in high school, Brinson became pregnant with their first child, LeBron James Jnr in 2004. Three years later (2007), they had another son Bryce James, and in 2014, (after marriage) they had their last child Zhuri James.
Fast forward till date, Savannah has proven to be an amazing wife and mother as she works hard as an entrepreneur and a philanthropist in addition to raising three wonderful children, keeping her family life private and helping her husband keep his head straight during tough times.
LeBron James Childhood Story Plus Untold Biography 
Facts: 

Family Life
Father: Little is known about Lebron James father, Anthony McClelland who ran away after impregnating James mother, Gloria. Anyway, he couldn't have been of any positive influence to Yong LeBron if he stayed back as he was an ex-convict with many criminal charges.
Nonetheless, Lebron James believes his father's absence motivated him to become who he is today. In 2014, LeBron made a post made on his social media handle that read:
Mother: Gloria Marie James is the daughter of Freda James. She has two brothers namely; Curt and Terry James. Gloria spent her childhood, adolescent years and early adulthood in Akron, Ohio. As stated earlier, Gloria was 16 when she gave birth to her only son, LeBron Raymone James, on December 30, 1984.
At age 19, Gloria's mother who helped raised LeBron passed away due to a sudden heart attack on Christmas morning, a sad development which made life hard for her and parenting a herculean task. LeBron once wrote a tribute to his mother. In his words;
She put me first. I knew that no matter what happened, nothing and nobody was more important to her than I was. I went without a lot of things, but never for one second did I feel unimportant or unloved.
Gloria Marie James as pictured below now enjoys the fruit of her labour.
LeBron James Mother's Boyfriend: His names is Da Real Lambo. As Heavy puts it, Lambo (pictured below) is an obscure rapper that hangs on like a leech to the James family.
He and Gloria have been dating since 2011 and he has joined her family on many vacations.
Da Real Lambo loves to post photos on Instagram of him with the family. Multiple posts even include him wearing LeBron's championship ring which he uses to showcase how close he is to his girlfriend's son (LeBron James).
He is only a few years Lebron's senior but calls Lebron his "role model." Out of all of his pictures, this one got LeBron James fans angry with many saying he is pretending to be famous.
LeBron James Sibling: Aaron McClelland Gamble is LeBron James' half-brother.
They are both sons of Anthony McClelland. Just like LeBron's mum, Aaron's mother was abandoned to raise her child alone. The resemblance between these men is obvious, but unfortunately, their bank accounts are as different as day and night.
While LeBron is wallowing in wealth as an icon in his field of play, his half-brother Aaron struggles with life as a low paid church musician and a single father.
Aaron McClelland Gamble never asked Lebron for anything other than a chance to get to know him. But recently, he DID need his brother's help financially to bury his Mother who died of cancer. Painfully, LeBron James never responded, which left a bitter taste. Lebron gives so much to his community and people he doesn't even know. However, he declines to give to his blood brother who is in great need. This is probably because his brother makes him remember his dad which in itself isn't justified.
LeBron James Childhood Story Plus Untold Biography 
Facts: 

Personal Life
His height is now 2.03m (6ft 8in). But when he surpasses Michael Jordan's 1.98m (6ft 6in), he refused to be measured.
In 2010, his announcement of leaving the Cavaliers to join the Heat was watched by approximately 9.95 million viewers. It was the third most-watched programme on Cable TV that year.
His first child was born on October 6. This is the reason why he wears the No: 6 jersey number during his days at the heat.
He may shoot more with his right hand. He actually uses his left hand to eat and write.
In 2014, Forbes named James as the most powerful athlete in the world.
Apple bought Beats Electronic in June 2014 for 3 Billion USD. James owned a very small stake in that company, netting a reported 30 million USD from the deal.
LeBron James is the second player in history to have won the NBA MVP, Finals MVP and Olympic Gold Medal in the same year. The other player was Michael Jordan.
Thanks for reading our LeBron James Childhood Story plus untold biography facts. At ChildhoodBiography, we strive for accuracy and fairness. If you see something that doesn't look right in this article, please place your comment or contact us!