CB presents the Full Story of an American television personality who is best known by the Nickname 'Kimmie'. Our Kim Kardashian Childhood Story plus Untold Biography Facts brings you a full account of notable events from her childhood time to date. The analysis involves her life story before fame, family life/background, relationship life and many OFF and ON-Screen (little-known) facts about her.
Yes, everyone knows of her good looks and curvaceous figure. However, only a few consider Kim Kardashian's Bio which is quite interesting. Now, without further ado, let's begin.
Kim Kardashian Childhood Story Plus Untold Biography Facts:

 Early Life
Kim Kardashian West was born on the 21st day of October 1980, at Beverly Hills, in California, USA. She was born to her mother, Kris Jenner and Late father, Robert Kardashian.
Kim was the second of four children born to her parents. She grew up under the glare and beauty of Beverly Hills, beholding an up-close view of Hollywood's pleasures and pitfalls. More so, she enjoyed the company of her elder sister Kourtney, as well as younger siblings, Khloé and Robert.
It would be interesting to note that Kim's childhood was a million mile away from anything close to stardom. Ideally, Sunday church was a regular part of family life. So was the expectation that living off the family dime would no longer be an option when the young Kardashians come of age.
Kim Kardashian Childhood Story Plus Untold Biography Facts:

 Family Life
Kim has an older sister Kourtney, a younger sister Khloé, and a younger brother Rob. Their mother is of Dutch, English, Irish and Scottish ancestry, while their father was a third-generation Armenian American.
After Kim's parents divorced in 1991, her mother married again that year, to Caitlyn Jenner, the 1976 Summer Olympics decathlon winner. Through their marriage, Kardashian welcomed step-brothers Burton "Burt", Brandon, and Brody; step-sister Casey; and half-sisters Kendall and Kylie Jenner.
About her father: Kim's father, Late Robert Kardashian was the founder of Movie Tunes, Inc., a music and marketing company. He was also a prominent attorney before his death.
Robert Kardashian died from cancer of the oesophagus in October 2003. Upon Robert's death, the company he owned was inherited by Kim and her siblings who sold it.
About her mother: Kim's mother, Kris is a socialite and former children's boutique shop owner. She now manages her daughter's career and is also involved in business management deals with the rest of her other famous children.
Kim's mum Kris was married to lawyer Robert until 1991.
One month after Kim's mom divorced Robert, she quickly tied the knot with Olympic athlete- Caitlyn Jenner.
Kim Kardashian Childhood Story Plus Untold Biography Facts:

 How She Rose To Fame
Unlike most celebrities, Kim rose to fame in a rather unconventional manner by an infamous s** video she made with R&B singer Ray J.
In early 2007, a video of Kim and the rapper in bed fell into the hands of Vivid Entertainment, a large ad**t film company. Vivid, which paid $1 million for rights to the 30-minute tape, widely promoted the release of the video, called Kim Kardashian Superstar.
Reacting, Kim trod a legal path by suing Vivid for invasion of privacy. However, she agreed to a $5 million settlement in May 2007, three months after the video was released.
Kim Kardashian Childhood Story Plus Untold Biography Facts:

 The Reality TV Star
After the release of the infamous video, Kim began making her way onto the television screen for something completely different. It didn't take long before the world beheld a new reality TV series called Keeping up with the Kardashians which premiered on the popular E! TV Network.
Produced by American Idol host Ryan Seacrest, the show follows the lives of Kim; her sisters, Kourtney and Khloé; brother Robert Jr.; mother Kris Jenner; stepfather Bruce Jenner (now referred to as Caitlyn); including the two young daughters of Kris and Bruce; Kendall and Kylie.
On one memorable episode from the first season of Keeping up with the Kardashians, Kim discussed with her family an offer to appear nude in the magazine. Kardashian eventually agreed to do it and bared it all for the publication in the December 2007 issue.
Her decision to appear in the magazine represents just how far Kardashian has come in terms of confidence about her own body. A big part of her brand is her curves, something she wasn't always so enamoured with and was at one time, alarmed about the increasing growth.
"I used to say my prayers before bed, and pray I would stop developing,".
She admits.
Kim Kardashian Childhood Story Plus Untold Biography Facts:

 Relationship Life
As a reality television star, Kim's love life has been the subject of intense media interest. She was only 20 years old when she got married to music producer Damon Thomas in 2000.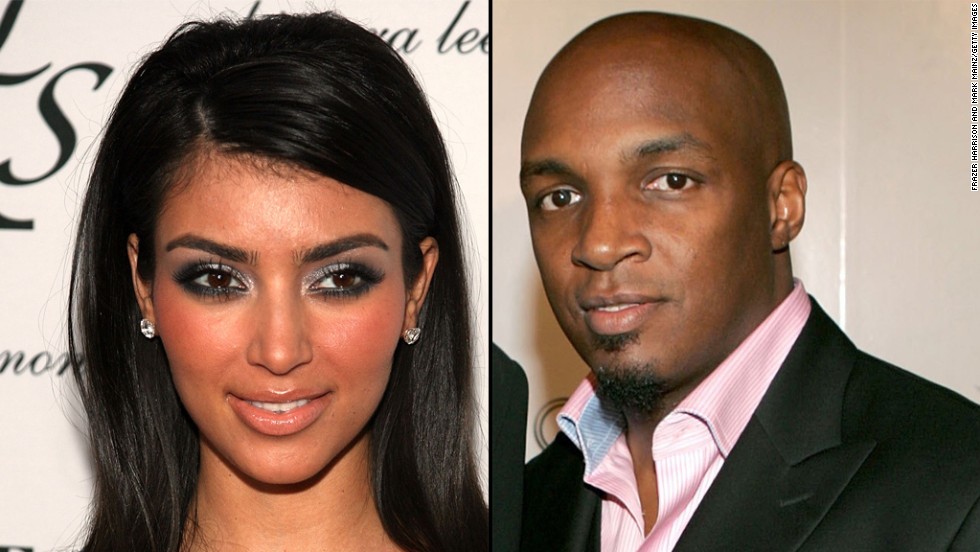 The marriage ended after four years. Following her divorce, Kim had a string of high profile boyfriends, including singer Nick Lachey and New Orleans Saints running back, Reggie Bush. In 2010, Kardashian had a whirlwind courtship with pro basketball player Kris Humphries. The pair married in a lavish, televised ceremony the following August in front of more than 400 guests.
However, wedding bliss was short-lived for Kardashian and Humphries as she filed for divorce after only 72 days of marriage. Humphries sought an annulment instead and claimed that the marriage was a fraud. In April 2013, it was announced that Kardashian and Humphries had settled their divorce, avoiding a long-awaited trial that took place in May 2013.
Kim Kardashian Childhood Story Plus Untold Biography Facts:

 Marriage With Kanye West
While Kim's divorce proceedings were still dragging on, she became involved with famous rapper Kanye West. Kanye and Kim had been friends for years before they officially started dating in 2012.
While they were friends Kanye never failed to admit his feelings for Kim (then married to Kris Humphries) who he mentioned in his song "Theraflu":
"I admit I fell in love with Kim … 'Round the same time she fell in love with him … That's cool, babygirl, do your thing … Lucky I ain't had Jay drop him from the team."
(Kanye was referring to his pal Jay-Z who owns the New Jersey Nets, the team Kim's ex-husband Kris Humphries played for.)
Kim officially divorced Kris (whom she had separated from) after she was impregnated by Kanye. It wasn't long before she gave birth to their first daughter, North West in June 2013.
The birth of North West took her parents relationship to a greater height as Kanye proposed to Kim on her 33rd birthday on the 21st of October 2013 at AT&T Park in San Francisco.
Months later, they tied the knot on the 24th of May 2014 at Forte Di Belvedere.
Their relationship was further blessed with two more kids, Saint West (born 2015) and Chicago West (born of a surrogate pregnancy in January 2018).
Kim Kardashian Childhood Story Plus Untold Biography Facts:

 Different Endeavours
Kim is a model, reality television star, entrepreneur, and socialite. She also has a stake in the business world with her Kimsaprincess Productions, LLC. In 2006, Kim went into business with her family after she and her two sisters opened the boutique shop, D-A-S-H (derived from the family's last name) in Calabasas, California.
The boutique has expanded its business with shop openings in Miami, New York City, and a pop up in Southampton in 2014. Business, as they say, is full of risk. Kim had a feel of it when D-A-S-H was robbed in 2017. The incident happened when a woman made off with $1,600 worth of Kardashian merchandise on a Monday, including various items of clothing and perfume. She reportedly sped off in a silver sedan with her loot. Guess what! $1,600 was just a little hit on Kim.
Kim Kardashian Childhood Story Plus Untold Biography Facts:

 Once Robbed At Gunpoint
Just a few weeks before the boutique robbery, Kim was robbed at gunpoint in October 2016 at her luxury apartment in Paris. The thieves who were dressed in police uniform outwitted a concierge at the apartment who let them inside. He was later handcuffed by the bandits who made their way to Kim's Flat. They broke into the room holding pointing a gun. Kim was not one to confront armed men as she obliged to their intent of tying her hands and locking her in a bathroom.
The gang made away with £9 million Pounds worth of Jewelry Including the £3.5 million 20 carat diamond engagement ring given to her by Kanye.
It took Kim months to recover from the unfortunate incident. She also avoided events in the French capital because the memories were still fresh. More so, Kim would not be visiting Paris for a very long time.
Kim Kardashian Childhood Story Plus Untold Biography Facts:

 Personal Life Facts
Kim Kardashian is a Libra and has the following attributes to her personality;

Kim Kardashian's Strengths: Cooperative, diplomatic, gracious, fair-minded and social.
Kim Kardashian's Weaknesses: Indecisive, avoids confrontations, will carry a grudge and self-pity.
What Kim Kardashian likes: Harmony, gentleness, sharing with others, and the outdoors.
What Kim Kardashian dislikes: Violence, injustice, loudmouths and conformity.
FACT CHECK: Thanks for reading our Kim Kardashian Childhood Story plus untold biography facts. At ChildhoodBiography, we strive for accuracy and fairness. If you see something that doesn't look right in this article, please place your comment or contact us!